Would you like to research stock quotes, find definitions to complex words and even search for encyclopedia entries? You can do all this and more by using MS Excel. Using this tip, you can search online for anything you like from Excel Window. This will be useful if you don't want to switch tabs every time. Here's how you do it.
Inside your Excel worksheet, right-click on any word that you want to define.

Click on 'Look up'.

In the 'Research' pane that appears to the right of your worksheet, the word will appear in the 'Search for' field.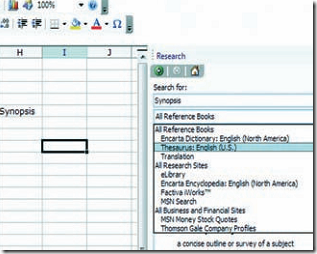 Use the dropdown list below the Search field to select your source for the definition. For example, stock quotes are pulled down from MSN Money, and company profiles from Gale.

Click on the green arrow to start searching for the definition.

Excel automatically pulls up the definition of the term without relying on a desktop dictionary or visiting a website.

The Research Pane also allows you to translate a word into different languages by choosing 'Translation'.
Explore all the various ways of researching on any topic.This amazing feature is not recognized by many people. Using Excel Search, you can get effective results for the inputted keywords as you can select the type of results you want easily.