You have several email addresses for corresponding with different recipients such as friends and family. Things get annoying when all messages end up  in the same mailbox. Creating  individual folders for specific  recipients makes navigation and archiving easy. You can instruct Outlook to store the mails  in different PST files depending on  the sender's address. This also simplifies archiving different emails. To do this,
Start Outlook and go  to  'Tools  > Account Settings'. 

In  the  list of created accounts, select  the email address  that will need to be stored  in  the new PST file.

Click on  'Change Folder'. 

In  the dialog  that appears, you can either select an existing folder or create a  'New Outlook Data
File' and  link  it  to  the account.

If you create a new PST file, select  the storage type and click  'OK'  in  the dialog box  that appears.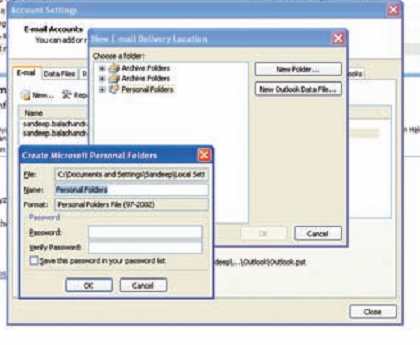 In  the  'Create or Open Outlook Data File' window, define  the storage location  for  the new data file with your desired  'File Name'.

Enter  the name  that Outlook should use  in  its navigation  list under  'Name'  in  the  'Create Personal Folder' dialog.

If you want, you can even password protect  the file. Close all open dialogs by either clicking on  'OK' or 'Close'.

Repeat  these steps  if you want  to link other accounts  to separate PST files.
Note: Outlook will now store mail received  from different accounts  in  the specified data files. For sending mails, however,  the application continues  to use  the standard account's PST file if you don't select a different sending address  in  the email. Remember  to back up all PST files when backing up your data or switching computers.
Check out other articles about MS-Outlook and Microsoft Office