You can read simple text files and website contents on your Apple iPod. By using this feature, you can have your required content even if you are on the move. This functionality is absolutely possible on the iPod with the help of a software called Text 2 iPod. All models other than the iPod shuffle and iPod touch can display notes. All that you are required to do is activate the 'Hard Disk' mode of your device. Then, you can copy simple plain text files into the folder 'Notes' that already exists. It is even possible to create subfolders for systematic file storage without any problem.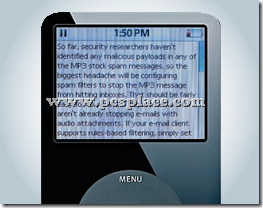 In the iPod, you'll be able to navigate to it just like any other menu. The problem here is that the iPod can
only display text files of 4 KB or less. Any text in the file beyond this point is simply not displayed, and there isn't even a notification or a warning regarding this.
So, it is a good idea to divide your text into smaller files. The small freeware tool 'txt2ipod' which can be downloaded from here helps you do this. You can run this program directly without any installation, but the .NET-Framework 2 is required.
First, customize the window size to your iPod model: in the program, select 'Tools > Window size > Customize to the iPod nano', For example.

Then open a text file on your computer with 'File > Open' or call data from the Internet.

In the search field, in the upper right-hand corner, select the Wikipedia search or call up a website.

Enter the search term or address and confirm by pressing [Enter].

Wait for a moment until the contents are loaded.

Now, with 'File > Save for iPod', create the linked individual files.

You will have to navigate to the desired folder in the displayed dialog and click 'OK'.
The tool creates a sub-folder and saves the continuously numbered and linked files there. If the iPod is connected, you can directly save them to the 'Notes' folder on the device and call them up from this location.