You suspect that your kids start the PC sometimes and surf the  Internet without supervision. You want a  record of when your computer was started.  Windows maintains an event log which documents all system starts and shut downs. Based on  that,  the  free  tool PC On/Of Time,  lists  the  last operating times of  the computer and presents  it  to you  in an easy  format.
We previously discussed about parental control tips for safe browsing like..
5 Best ways to Block / Restrict Access to Websites for Safe browsing
How To Block Explicit / Adult Websites From Google Search
Using PC On/Off Time
The program  is available  for  free at neuber. After extracting  the ZIP file  to an empty  folder, you can directly  run the program without any  installation process.  Just  run  the file  'pconoftime.exe'. The  tool  immediately shows  the times at which  the computer was switched on  in  the  last weeks  in a graph.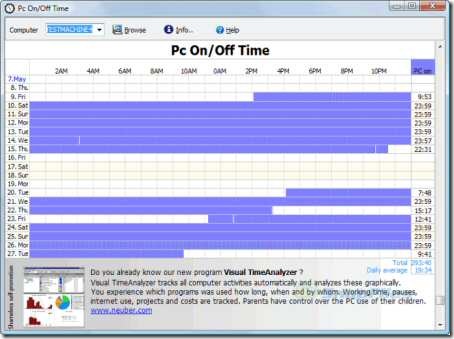 Using Control Panel
If you do not wish  to use PC On/Of Time, you can also check  the  logs yourself.  In  the Control Panel,
Double click  'Administrative Tools' and  then double click  'Event Viewer'.

In  the  left pane, select  the 'System' category. The list shows a number of events  in  the Event column, with  the  time.

The event '6005'  is an  indicator  for a system start, since  it  records  the start of  the event protocol service.

In  the same way, you can use  the entry  '6006',  to see when the event  log service, along with  the system, was shut down.
To make  this even easier, you can click  'View  > Filter' and  type  the value you are  looking  for, i.e.  '6005',  in  the Event  ID field. Leave all other settings be as  they are and confirm with  'OK'. The filtered  list now shows all recorded system starts.