Are you staring at a word document that needs to be completely reformatted with a set of new styles? Were you just asked to make all existing italic sections bold as well? Maybe the document is huge and it will take you a few days to search for all the text that is currently in italics.
You can modify similarly formatted text in Microsoft Word 2007 with a simple procedure. Now, with Word 2007, it will take you just one minute, no matter how large the document is. Here's a way to do it quickly and easily. To change the format of similarly formatted text in a document:
Open the Microsoft Word document.

Select the text with the formatting that needs to be modified. For example, select an instance of the text with italic formatting.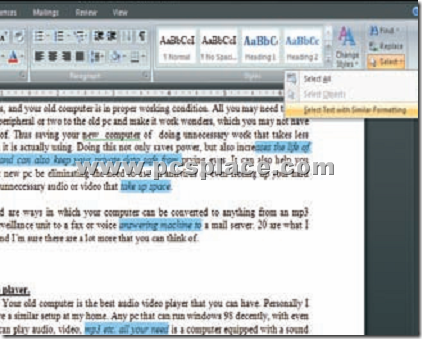 TIP: Right-click on the selected text, select 'Styles', and click on the option 'Select Text with Similar Formatting'.
Click on the 'Home' tab.

Under the Editing section, click on the small arrow next to the 'Select' option.

Select the option 'Select Text with Similar Formatting'. All text with italic formatting in the entire document is automatically selected.

You can now apply the new formatting. For example, under the 'Font' tab, click on the 'Bold' icon.