Facebook Questions is the one of the latest features on Facebook. Now, this is a powerful feature for many of the Facebook users. But if you are one of those users, who do not want questions to be displayed on the wall, then you have the option to disable / hide Facebook questions.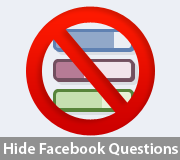 Disable / Hide Facebook Questions
Well, Facebook does not offer you with an option to hide these questions. But you can take help of a Firefox addon or Chrome extension to do this.
If you use Chrome, then Hide Facebook Questions is a useful extension which keeps all the questions away from you. Once you install this extension, flush the cache memory of Chrome by clicking the wrench icon – Tool – Delete – Clear Browsing Data. Now relogin your Facebook and you are done.
And if you use Firefox or Safari, the same can be done by using an addon called F B Clarity. And this addon would also get rid you of quiz messages, buttons, boxes, Facebook spam.
Happy Facebooking!