In Opera, there a way to arrange my downloads automatically by folders. Among the many features that Opera comes loaded with is one that automatically organizes all your downloads (transfers) as separate folders, based on the type of file formats downloaded. To have Opera accomplish this feat,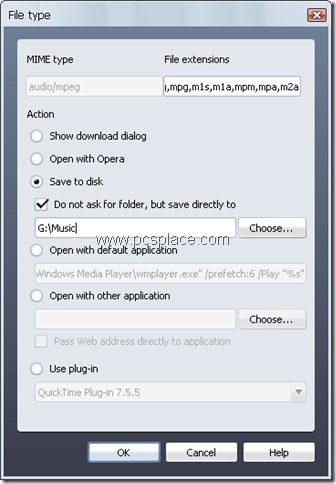 Go to Tools > Preferences > Advanced and select Downloads section dialog box.

Here, locate the file type that you intend sending to a specific folder. For example, to send your downloaded MP3 songs to your c:\music folder, search for the MIME type called Audio/mpeg with
file extensions of MP3, MP2,and MPGA.

You can use the Search box on the top to type in the extension you need (for this, you have to uncheck Hide file types opened with Opera ).

Once located, click Edit and in the dialog box that opens.

Click on Save to disk and Do not ask for folder, but save directly to and then enter the target folder like c:\musicin the text box that you see there.

Click OK and you are done!
Repeat the same steps for extensions of all the other files that you want to store in different folders. You can even select between the default application to open these files or you can change it to something you like by modifying the settings in the dialog box.