The Auto shapes in Excel 2007 can be made to look more interesting and personalized by changing the shape fill of the image. Adding pictures to your shapes gives a new look and feel to it. Besides adding pictures you can also change the stroke color of the shape and also fill gradient effects and use patterns for background fills.
To do so, just follow these simple steps:
Go to the 'Insert' tab.

Click the 'Shapes' option under the 'Illustrations' group.

Select any shape from the drop-down list.

Left click on the spreadsheet to drag and create your shape.

Right-click on the shape.

In the context menu that appears, click on the 'Format Shape' option.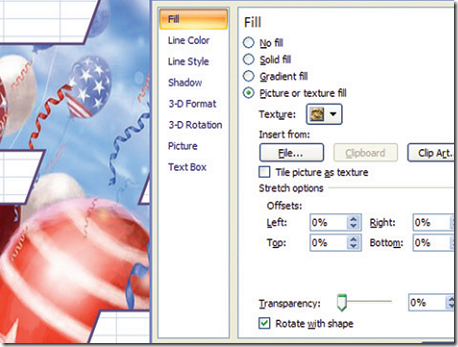 In the 'Format Picture' dialog box, click on the 'Fill' option.

Under the 'Fill' menu, select on the 'Picture or Texture Fill' option.

Click on the 'File… ' button appearing under the 'Insert from:' section.

Browse for the image and click on 'OK' to select the image

Click on 'OK' to close the 'Format Picture' dialog box.
This technique applies a masking effect to your images. This is useful when you want to insert an image in a specified shape into your Excel Spreadsheet.