Adobe's PDF has established  itself as a cross-platform document format. Even MS-Office can work with it directly. It is expensive to create PDF files from Adobe Acrobat Professional. Here is a small plugin for Microsoft Office allows you to save a Word or Excel file directly as a PDF or XPS. There are methods to create PDF online and also other software to work on PDF files.
This free tool from Microsoft emulates all  the  functions of Acrobat.You can download it from this link. Enter 'PDF or XPS' in the search field and follow the link in the result page. After the download is complete, end all running Office programs and run the file 'SaveasPdfandXps.exe'. Accept the license agreement and proceed.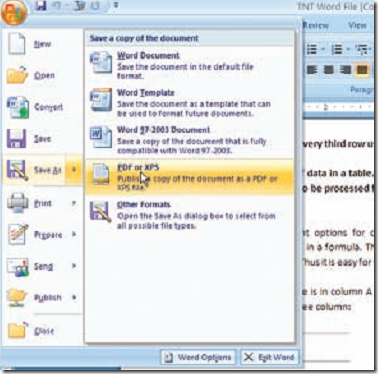 You need not make any more settings thereafter. You can now use  the new export function in all Office programs after hovering over the 'Save As' command in the Office menu and then selecting 'PDF or XPS'. Check your selection and enter a file name for the export in the 'File type' field. Leave the remaining settings as they are.
Under Options', you can determine, in Excel for instance, whether you want to export the current Selection, the active page or the entire workbook. Finally, click 'Print'. Check whether the result displayed in Adobe Reader is suitable for your needs or you can make  the changes you want.