The 'Temporary Internet Files' folder on your system takes more hard drive space than specified in the configuration. Amongst other things, because leftovers of files remain there even though you have emptied all the contents via the 'Internet options' dialog box.
You can quickly solve the problem described above by moving the 'Temporary Internet Files' folder to another location, deleting the old folder and then shifting the new 'Temporary Internet Files' directory to the original location. Here is the procedure to follow in order to avoid the memory wastage for Temp Files Folder of Internet Explorer..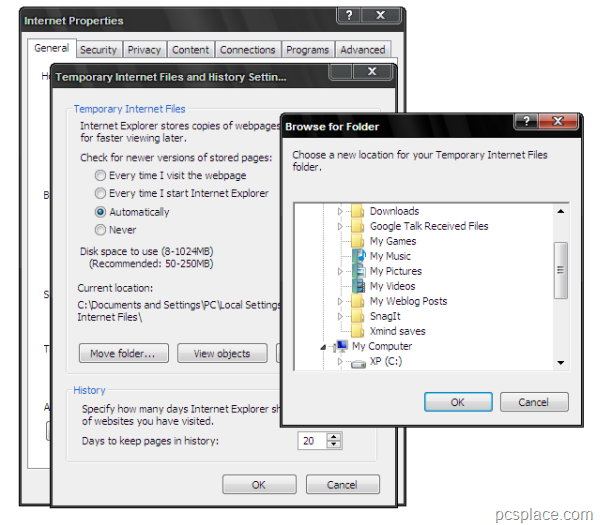 First, in Windows Explorer, create a new folder and in 'Internet Explorer', open 'Tools > Internet options'.

In the 'General' tab, click 'Settings' and 'Move Folder' under 'Temporary Internet Files'.

Open the newly created folder and click 'OK'.

When Windows asks you to log off, click 'Yes'.

Then log on to the system again and close all dialog fields with 'OK'. In the 'Windows Explorer', now delete the old folder 'Temporary Internet Files' and at the same storage location create a new folder with the same name.

Then repeat the steps described in the beginning and then shift the storage location for 'Temporary Internet Files' back to the old location.
BACKGROUND..
The problem described can occur due to a variety of reasons. For example you may have downloaded the contents of a website only partially. This happens when you click Stop when a site is loading or when you open another site before a site opens completely. Or you download streaming videos with the ActiveX control element 'Axis CamControl'. And last but not the least, some files can be hidden in the 'Temporary Internet Files' folder, which are used by other processes or are protected in some way.