The Zoho plugin for Microsoft Office allows you to write a document or compile a spreadsheet offline and upload it to your Zoho account without leaving the safe confines of your Office applications. The plugin works with Word and Excel and is compatible with the DOC, DOCX and XLS formats in Office 2007.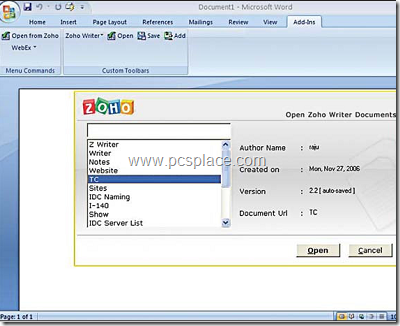 Using this Plugin, You can..
Create, edit and save their documents & spreadsheets directly to Zoho Writer/Sheet from within Microsoft Word/Excel.
Alternatively, users can open and edit their Zoho documents & spreadsheets in Microsoft Word/Excel and save it back to their respective Zoho services (Writer/Sheet).
Publish local offline documents/spreadsheets for the external world to see using Zoho Share.
When Outlook is restarted after installing the Zoho plugin for the first time, you are prompted to save your Zoho account details in the software. You can access  your Zoho documents from the "Open from Zoho" menu on the toolbar. After you're done writing a document or creating a spreadsheet, you can upload it online by going to the same menu.
The Zoho plugin uploads heavily-formatted and large documents fairly quickly, and when these are accessed online, the formatting is mostly similar to the originals. By this you will never lose your data and you can even share between different users and also can publish documents online.
Get it here http://www.zoho.com/zohoplugin/home.html