With more and more advanced technologies coming into the area of televisions, one would always look for easy ways to connect laptop to TV. Now why would one want to do that? Well, may be you want to watch a movie that is stored in your laptop. Or may be you are sitting with your family and wish to see a photo album.
Regardless your reason behind your need to connect computer / laptop to television, you can check out the below ways to do it. Now it totally depends on your television, which method you should follow.
It depends on the port that your television and laptop has. Once you are done reading this post, you will be in a position to decide the way which you should follow.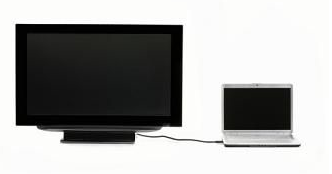 5 Easy Ways To Connect Laptop To TV
Connect Your Laptop To TV Using HDMI
This is considered to be the easiest way to connect your laptop to TV. And at the same time, HDMI port (High-Definition Multimedia Interface) is considered to be the best is in the business when it comes to delivering video output. Using HDMI port, you can transfer high quality audio as well as video. All the latest televisions now a days come with HDMI port.
Connect Your Laptop To TV Using DVI
If I am allowed to rank the ways based on the video quality, then DVI port would come just after HDMI port. You get DVI – DVI cables and DVI – HDMI cables in the market. And based on the ports available on your TV and computer / laptop, you can buy the appropriate cables and get going. Easy and quick, just like HDMI port.
Connect Your Laptop To TV Using S-Video
S-Video stands for Super Video. It is the conventional way to connect your computer or laptop to television. You might not get the high video quality like you could get using HDMI port or DVI port. But this is the only option if you have been using older television sets. Nevertheless, S Video does serve your purpose.
Connect Your Laptop To TV Using VGA
Whether you are having older television sets or laptops, VGA port is something which is most likely to be available. But unlike other ways, you cannot straight away connect laptops and computers using these cables and get going. You need to launch its settings option from Control Panel (if you are working on Windows), and adjust the graphics adapter using double display feature. And then, you need to choose VGA as the source for your television.
Connect Your Laptop To TV Using Wireless Converter
As already mentioned, technology is advancing at a great pace. There are many wireless converters available on Internet which can be used to connect laptops to televisions. Get to store and check out the converters available. And then you can go with one you like.
These are the easy ways to connect your laptop to television. Check out the specifications of your computer/ laptop and television and make a wise decision to get things displayed on your computer.