As we all know that Facebook, WhatsApp and many other messaging lets you know if the other person has read your message your not. If an Instant Messaging service can do this, then why can't our email service do the same?
How many times have you realized the need to find out if your email has been read or not? I assume your answer would be, MANY TIMES. So, if you are looking for ways to track your email, and you will find a couple of answers in this article.
I have listed out a couple of ways to check if your email has been read or not. I have tried them out, and found them very useful. See, if you can make use of them.
2 Ways To Track Your Email – Check If Your Email Has Been Read
Banana Tag
This is a pretty useful service that can be used to track your emails sent from Gmail or MS Outlook. Yes, this service can only be used if you are using Gmail or MS Outlook. All you need to do is visit its link, create an account for yourself and download its Chrome or Firefox addin.
Once done, you can start tracking your emails. While composing a new email, you will see a Checkbox which is labelled as the Banana Tag symbol. All you have to do is simply put a check across that email, and that email would be tracked. And whenever the recipient reads that email, you will get a response back from Banana Tag that your email has been read.

Banana Tag's dashboard is pretty solid as it would dispose lot of metrics infront of you to understand things. Its a pretty useful feature if you are into PR or Marketing profile who wants to understand the market. Its free version allows you to track 5 emails a day (which is a decent figure if you are not using this service commercially), its paid version would let you track 200 emails a day.
Its actually a free service which is used to track your emails. Before you actually start using it, just logon to its homepage and register yourself there so that you have a proper track of all your email tracking.
Now fill in the below form, which includes your email address, your email subject line, tracking image, and once done, click on Click to create my SpyPig. This will generate an image which can be used to in your email just by pasting it over there.
And send the email like you do normally.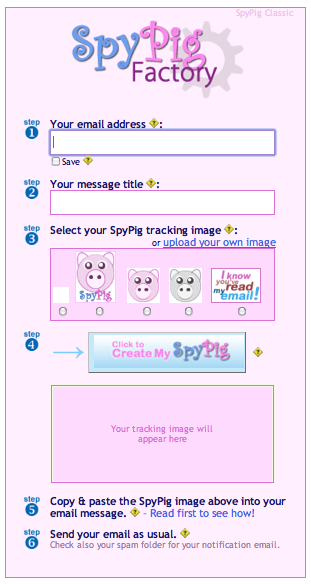 And whenever your email is read, you would get an email on the above mentioned email address that your email has been read. This takes efforts (which would hardly take a minute of yours), but there are no restrictions or limitations while using this service as its free and completely unlimited.