Apple's iPhone and iPod, iPod Touch are used by many people all over the world. The best part with iPhone and iPod Touch is the availability of number of applications which serve in different ways. Games are most downloaded applications. There are thousands of games available for download. I handpicked some 9 best games for iPhone and iPod Games which are free to download  and are fun to play. You can download these by searching for them in the Apple Application Store or through the iTunes Store.
9 Best Free iPhone and iPod Games
1. Accel Break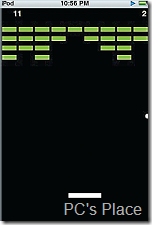 If you enjoyed playing Arkanoid as a kid, you'll love Accel Break. Not only do you have the standard paddle and colored bricks to destroy with a bouncing ball. The twist here is you can control the paddle with your finger, for extremely accurate positioning, or by tilting your iPhone from side to side, for a different kind of fun. The game is updated frequently, with more levels and better controls.
2. Cubicman Lite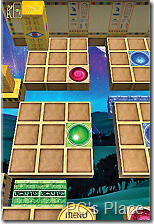 Cubic man Lite is one game that makes full use of the iPhone's screen and multi touch  gestures. You have to move a pillar from its start point to a target, but can only tip it over and roll it around on its side. Navigate through narrow gaps, land on triggers to activate bridges, and try not to fall off the edges. It's a lot more difficult than it looks, since the pillar is two spaces tall but only one space wide.
.
3. Cubes Lite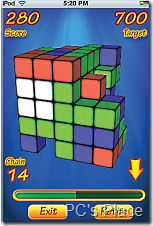 Imagine playing Tetris on all sides of a Rubik's cube and you can understand what Cubes Lite is like. Rotate a 3D cube on any axis with a swipe of your finger, and match blocks with the same color to eliminate them. The remaining blocks fall depending on which direction is currently down, and you score better by  sacrificing smaller groups to make big combos. The lite version comes with only three levels
4. Fire Drop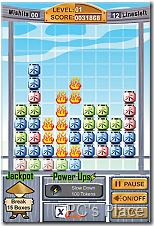 Fire drop has a tranquil-looking Japanese theme, but you'll realize there's nothing Zen-like about this game when the colored lanterns you match up suddenly burst into fames. Race against the clock to destroy the columns before they reach the top of the screen, but try to create groups larger than 15 lanterns for bonus credit. You can collect tokens and exchange them for extra time to line up lanterns. Be careful though, tap three times in the wrong place and you have to restart the level.
5. Aurora Faint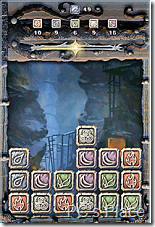 Aurora Feint is probably the best free game you'll find for the iPhone. It combines a deceptively simple puzzle game with elements of strategy, role-playing, and fantasy fiction. Earn crystals and master the five essences to be able to  buy powers and magic amulets which increase your skill and understanding. Extra challenge modes reward you with more powerful essence-collecting tools. The entire story will be revealed in multiple episodes over the course of time.
6. Labyrinth Lite Edition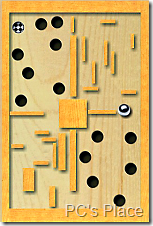 Labyrinth Lite edition is perhaps one of the best demonstrations of the iPhone's tilt sensor. The concept is simple: hold your iPhone fat, and tilt it so that the silver ball makes it to the target, avoiding holes in the floor and wooden obstacles along the way. The graphics are superb, and the physics effects are fluid and realistic beyond belief. The Lite version comes with 10 levels, but you can pay for more. Other similar games are available, but this one is by far the most realistic.
7. Solitaire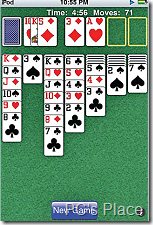 We've all wasted hundreds of hours playing Solitaire, one of those staples of casual office gaming. But it's a pain to play on a cell phone, because of the number of button presses involved. The iPhone version lets you drag and drop cards with your finger, making it simple and fun to play. All the usual options are available, including three-card draw. Countless other card games should be available soon.
8. Squares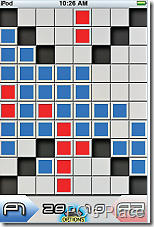 The creatively-named Squares is a fun variation on classic Reversi and block-matching games. You have to surround and outnumber your opponent's squares. Selecting a square next to one of yours makes a copy, but selecting diagonally will only move the square. You can play against another human player, and you have to plan your strategy according to the pattern of the board.
9. Tap Tap Revenge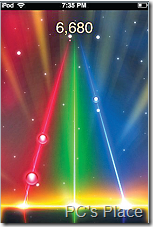 If Dance Dance Revolution was a treat for your feet, your fingers can start their own jig with Tap Tap revenge. It's exactly what it sounds like: follow the music and keep tapping the glowing orbs falling down the screen. There are a few different difficulty levels, but the songs aren't recognizable and aren't very entertaining. Get started with the tutorials, or create a profile page to share your scores online.
I will be updating the list with more free games. Add in your favorite games through your comments. Share it If you like..