People are spending a good amount of time on Twitter. Sometimes, you might feel a bit bored with conventional activities on Twitter. So how about playing games on Twitter? Here is a list of 5 best Twitter Games you should play. These are based on different genres, Select your favorite twitter game and have fun.
You might have come across few games on Twitter but they would have surely failed to impress you. Then don't you worry, there are few other games which are so very interesting to keep you glued to your computer. Now you must be getting curious to know about them. Below are few of those interesting games which you would enjoy playing..
This is the simplest game and the best part is that who won't even need to spend much of time to relish it. It provides instant entertainment. The rules of the game are simple. Just log on to the site and register your self. Then you would be getting questions from @trivia and all you need to do is tweet back the answers to those questions. You will get points for each correct answer. And what makes it more interesting that, the site offers amazing gifts for best scorers.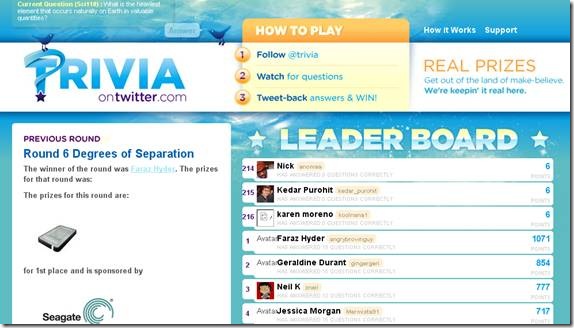 So the logic is simple, answer more number of correct questions to make bigger score and then exchange those points with cool gifts which include some wonderful hardware, software and other interesting stuff. So, if you don't like to play games for fun, then try this one as you could fetch a prize.
This is one of the best and one of the most popular games on Twitter. It is an RPG game, where you play the character of a Mafia. You have start with handful of cash, which you can use to buy weapons. And from then you have to start leaving an impact on the Mafia world by recruiting your friends as a part of your Mafia. You have to complete jobs from which you can earn cash, which can be spent to buy weapons and property.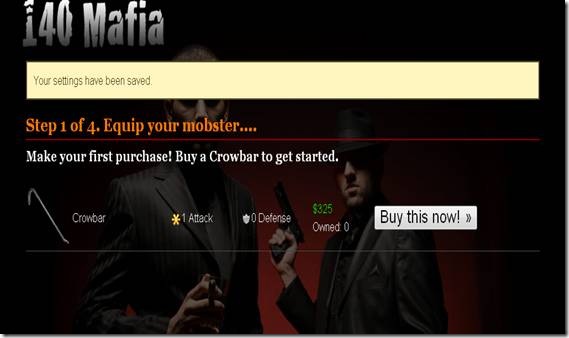 This is a sort of game, to which you can get addicted because it is equally interesting. You can involve all of your friends into the game and complete different levels. Although you are recommended not to get inspired from the type of jobs involved. Just spend your leisure time in playing this game and extract good gaming experience.
Social Networks Online Defense Squad commonly called as Snods. Snods is my personal favorite game on Twitter. This is also a role playing game which involves characters like cops and robbers. More number of followers involved in this game, better you can perform and this makes it more interesting. Here, you can rob the people on Twitter or you can capture them regardless they are your followers or not. And you have to do lot of jobs in order to earn lot of cash, although its virtual money but the happiness you extract is nothing less.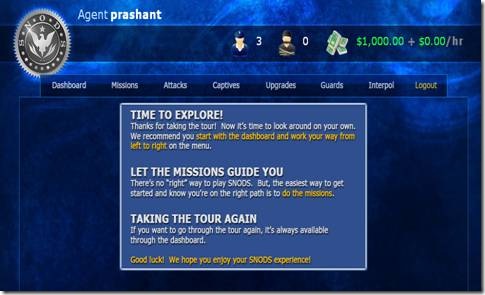 You are given with a title "AGENT", and by completing all the jobs successfully, you can cross over number of levels and earn more cash per hour. All this will lead you to be one of the most popular AGENT in the network. Try it as it is a wonderful game to kill boredom.
Spymaster is undoubtedly the super hit game on Twitter. There are only two ways to react towards this game. You will either love it or hate it. Spymaster is a kind of game which will keep you involved for hours. It is a very complex game and once you start playing it, you will discover so many new things. You can find many guide books to play this game; that is why one would always fall short of words to describe this game.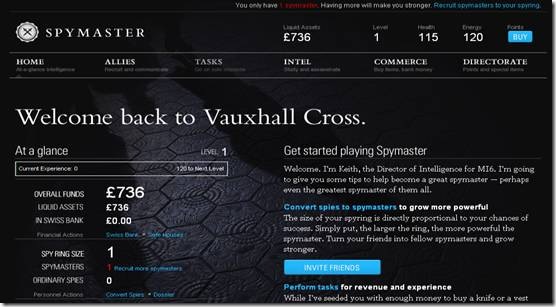 To be short, in this you play a character of Spy for any of these agencies; American Central Intelligence Agency (CIA), British Secret Intelligence Service (MI6), or the Russian Federal Security Service (FSB). And the game is all about your pursuit of becoming a Bond (with a caliber of James Bond). It is worth trying as it has surely revolutionized the whole concept of social networking games. Discover it.
Tweefight is more a fun game, where you get into fight with your followers. I am not talking about real fight; it is just like any other virtual fight. You can simply type your name and the name of the enemy (again a virtual enemy) and then start the fight. You can take number of boosters and weapons to win the fight but it asks you to pay (this time its real money).
Even if you won't buy those boosters, this game will successfully keep itself intact with you. It is just like playing a virtual fight, where you won't make your opponent bleed but you still win. It is an interesting game to pass your time.
If you know any more games you can play using Twitter, share them through your comments. You can follow me on Twitter @pcsbox