We have already shared Android Comic Reader apps, now its time for similar apps for iOS devices. Yes, we have compiled a wonderful list of free iPhone / iPad Comic Reader apps. With gorgeous display screen, iPhone and iPad are like the perfect portable devices to read comics. This makes these free Comic Apps for iPad and iPhone, must have ones.
Digital comics will prove to be a better option in many senses. One that digital versions of comics saves paper, so indirectly you are saving and environment. And buying comics online will prove to be cheaper too. Yes, it might not give you the EXACT feeling that you used to get while reading comics when you were kid, but this cyber reinvents every thing.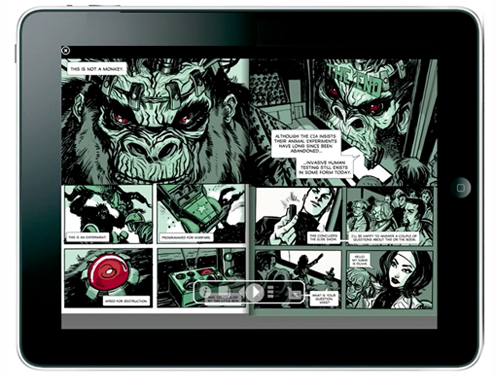 5 Best Free iPhone / iPad Comic Reader Apps
CLOUDREADERS
This is basically a PDF reader but works surprisingly well as a Comic reader on iPad and iPhone. With its touch features for changing pages, and zoom makes it real pleasure to read comics. We are sure you would love using it because it makes the best use of the resources of iPad and iPhone.
DC COMICS
Now, among the apps which have integrated online stores, DC Comics is one such comic app for iPad and iPhone that most of the people would suggest. The reasons are many, and one of the biggest reasons is that it features ComiXology's "Guided View" optimization which offers amazing navigation.
IDW COMICS
Here is another free Comic reader apps for iPad and iPhone which might be just what you were looking for. This app too has an integrated online store which lets you download number of comic books which include Transformers, G.I.Joe and many more. And with its basic touch features, the whole navigation system becomes completely user friendly.
iVERSE COMICS
This iPhone / iPad Comic reader app integrates online store to buy comics from where you can download over 1000 comics from the publications like IDW, Marvel, Red 5, and Image. With easy to use interface, smooth buying procedure and good layout makes it worth having this comic app on your iOS device.
STANZA
Stanza looks like a conventional eBook reader which makes it a user friendly app to read comics on iPad and iPhone. It lets you either change pages by fancy turn page touch or by normal slider style. Since it gives you the authentic feel of the good old comic reading, and the fact that it is free makes it a must try app.
There are number of such apps available on iTunes which let you rediscover your love for comics. If you have been using any such comic apps or iPhone / iPad  Comic reader apps, then please do comment and share with us.
Happy Reading!