Why would want to know about the websites to upload videos? Obviously, its non of my business. And irrespective to your need to know about video upload sites, I would like to list out all the services that I am aware of.
Yes, why don't we label it as the ultimate list of video upload sites. Whether you need to upload videos as a part of your marketing strategy, or for storage, or for any damn reason. You can definitely make use of this list.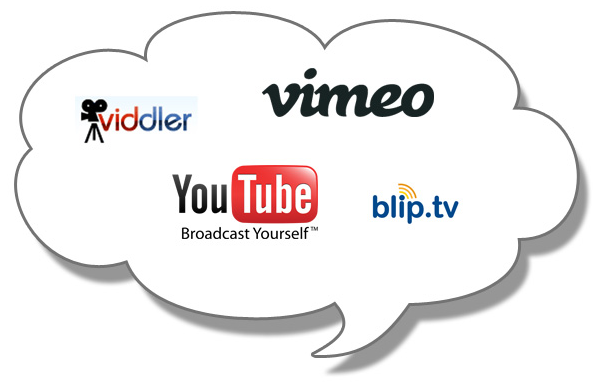 13 Best Web Sites To Upload Videos For Free
Atom.com
You can straight away start uploading videos to it, once you are done with the registration with them. One thing which actually made be browse around the web site, is its collection of Comedy Central videos. I just loved it.
Break.com
This service is more like the Social Bookmarking website for the videos. Instead of submitting links, you need to upload your videos and submit them here. With the categories given on the site, one can easily look for the videos that he wants to watch.
ClipShack
This is another community of video uploaders. Just register to it and start uploading videos. Navigating on this web site is so very easy as it has done the categorization of the videos amazingly.
Citytv.com.co
I ll rather not speak much about it as it is a Spanish web service. But if you understand Spanish and dont mind using services in Spanish, then just give it a try as it looks very promising to me.
DailyMotion
With a smooth and plain user interface, it lets you upload videos straight away once you register with them.
Flickr
One need not give sort of briefing about this incredible service. Since the day it has arrived, and till date, people have been loving using it.
Metacafe
Few years back, I used to use Metacafe on same level the way I used YouTube. You can upload almost anything over here.
OpenFilm
It is one of the biggest open library for movies. You can find all the open movies here, and if you have been looking for a site to upload movies openly on Internet, try this out.
ScreenJunkies
If you are looking to upload TV shows related videos, then check out this video upload service.
Vimeo
You can register to Vimeo and straight away upload videos. And there is so much to explore on Vimeo other than videos, which would surely keep you busy.
Yahoo Videos
One might say, that this service was there in the existence even before YouTube. With time, it has surely degraded. But it is not a good enough reason for you to not use it.
YouTube
This is the mother of all the video upload websites. YouTube has been growing exponentially since the day it was introduced to the world. And I doubt, if there is any Internet user left on the planet who has not heard of YouTube.
Youku
This is the Chinese version of YouTube which is equally powerful and useful.