WordWeb is a free English digital dictionary and thesaurus that helps to look up for words and check meanings of words offline directly. With so much work and entertainment happening on the computer, it has become essential to have a digital dictionary to look up words and meanings. WordWeb dictionary and thesaurus is easy to install and run.
During installation you will be given the option to have it run permanently in your system tray. To look up a word, you can also simply select it and invoke the default hot key Ctrl+Alt+W (which is changeable) to bring up the WordWeb window. This incredible offline dictionary offers definitions (with audible pronunciations), synonyms, proper nouns and related words.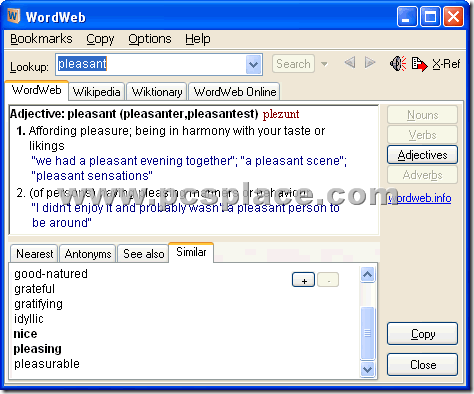 The latest version has a facility to look up your words using Wikipedia, Wiktionary or any other online word reference tool. WordWeb is available only in English, but it does show differences in spelling and usage between British, American, Asian, International English etc. There is only one thing that this dictionary lacks, it isn't available on any platform other than Windows, and there is no portable version for use on mobile devices.
WordWeb is very much recommended as it is Quick and efficient, and it even works offline. So you don't have to be online to check the meanings or related words and above all its completely free.