For those of you who often find yourselves struggling with the Windows Character Map to insert special characters in Word, here is a great news. No more struggling to find that Euro sign. Just install WordToys! There are plenty of useful features here.
Using WordToys you can save multiple Word documents all in one go. You can also save all open documents as a workspace, and then close them; when you return, all you have to do is choose to restore your workspace and all the files you had open will be opened up again. You can also choose navigate through your open documents using tabs!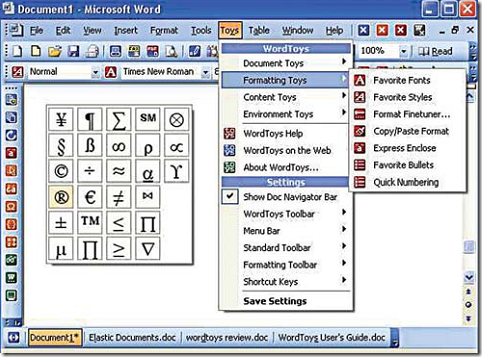 After you've installed it, you will see that WordToys takes over your Word Toolbar and allows you to set favorite fonts, symbols, bullet menus, and more. You will also now have the ability to save any document as a PDF even if you don't have Acrobat installed.
By default, Word 2000 displays all the options on its toolbars, just greying out the unusable ones. WordToys will remove these to help you unclutter the toolbar. If you want to remain anonymous when ratting out your boss or in any similar scenario you can use WordToys to remove information such as Author, Organization, and more from the Word document. There's so much more this software can do, you have to try it to learn any more!