There is no doubt about the fact even after so many years, Vi editor still proves to be one of most powerful text editors on Unix platform. As a Database Admin, I spend a lot of my time working on Vi editor. And I have to tell you that I love it.
But I always used to wonder, what if I could merge the features of Vi editor with the user friendliness of Windows. This thought always gave me goose bombs because that would result to be THE MOST powerful text editor for Windows, which is apparently the most popular OS on the planet.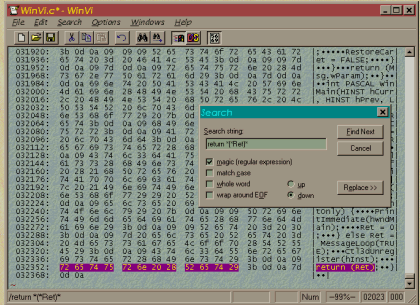 In pursuit of such free alternative to Vi editor for Windows, I have come across WinVi which is a free text editor with almost all the features that the Unix Based Vi Editor has. Below are some of the features of WinVi:
Compatibility with Unicode files like, UTF 8, UTF 16

Mouse Scroll (I love this feature)
Compatible with Windows Notepad
Lets you name files as Unicode files
Lets you create upto 2GB sized files
Choose fonts
Multi lingual support
Many (if not all) Vi commands compatibility
WinVi might be the perfect alternative to Vi editor, but it is surely a must try one. Its free and its promising. Download it and see if you can experience the power of Vi editor on Windows.