WebcamXP is a video management and streaming application, best used for video streaming and video surveillance. It supports any Windows-compatible webcam or IP camera. Very easy to configure and use, it allows monitoring and broadcasting video from your webcam to the Internet using its built-in web server.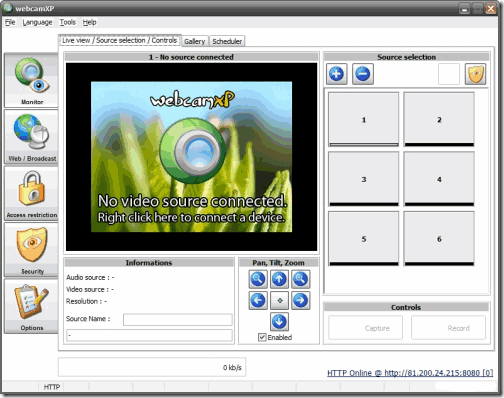 One can easily control and monitor the video feeds by simply accessing the computer's IP address from any Web browser. Pan, tilt, zoom, and record controls are available via the web interface. The web server includes features such as live chat, HTTP broadcasting and uploads to other FTP/ HTTP websites. User accounts as well as IP filtering can be configured on the server end to allow/restrict access to camera feeds. Server administration is also possible from a remote area.
The software also features security options such as motion and audio detection, email alerts, automated video recording and scheduled monitoring/recording. It can generate HTML code which can be inserted into your web pages to display live video feeds.
WebcamXP is available for download in three versions – Free, Private and PRO, which support one, five and unlimited video sources respectively. The Free edition is available for private use only. The PRO version can be tried for 60 days, after which it will fall back to the functionality of the free mode.