SweepRAM is a portable program which enable you to free all the RAM of your computer that is not being used. Just for a case, if you have got irritated by the slow speed of your computer, just run this wonderful portable program and get your unused memory free instantly.
What leaves a smile on your face is that you need not install SweepRAM on your computer. You might have used many memory optimizers which itself use hefty amount of RAM. But SweepRAM will impress you to the core.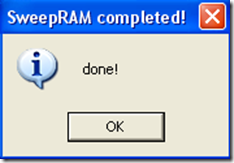 You do not need to spend hours in learning how to use SweepRAM. Simply double click on the icon, and see your computer being run faster now. Make sure that you run this program when your system is really down with resources, so that you can realize its impact. Try SweepRAM and go faster in seconds!