Instead of using the default icons, you can create your own icons from pictures or images using a free software called Simply Icon. This application can create windows icons  by converting any image file to .ICO format easily. You can drag-and-drop images or pictures on to this program to convert them to icons. Check this to know how to change icons of your folders and programs in Windows.
This icon creator program generates icons in different sizes like 48 x 48 32×32, 24×24 16×16 and even 128×128 level if your source image is equal to or larger than 128×128. You can use these icon files for different purposes like for making favicons, folder or program icons etc.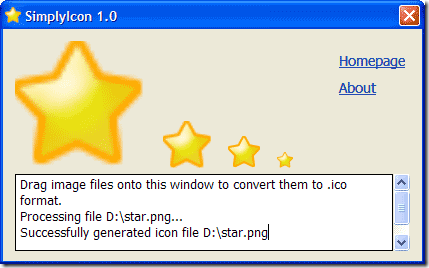 You don't have to install this portable freeware. Just Download Simply Icon and Unzip files to use it. Once you start the program, drag the picture you want as an icon and you will be presented with ICO format files in different sizes. This is a very useful program if you want to generate icon files quickly. It requires .NET framework 2.0.