Find and replacing a text in any text editor or data management tool like Excel or Access is not a big task. It can be done by the hit of few keys and clicks. But what if you wish to do the same replacing action for a particular text in number of files?
There must have been times when you wish to replace a particular text with something in number of Word files or Excel files. Then the only thing you can think of is opening each file, and get the replacing thing done.
This surely is a quicker way than replacing those texts manually. But you would be glad to know that there is a means to find and replace text in batch in Word and Excel files with a free tool namely, Replace Genius.
Below are some of the actions that Replace Genius would let you do:
Find and replace
Change the casing of the letters
Insert String
Renumbering
Delete or Move Section
Zero padding and trim spaces
Adding Counters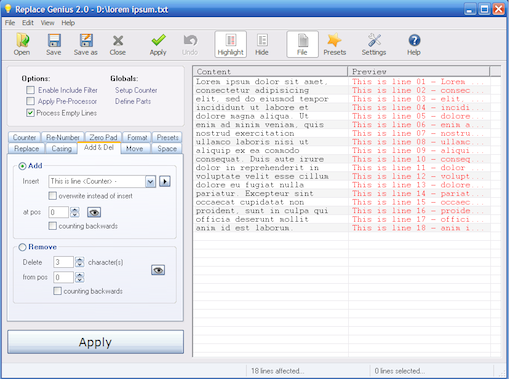 These were the actions that this program would help you do. And if you wish to learn more about its features, then below are some:
It supports text files, Word files and Excel files
You can save your replacements in its Presets & Batch Replace function so that you can use them later
Its lets you preview the changes even before the changes are done
Its advanced filter lets you target particular sections to perform these operations
Replace Genius is advanced, useful, and free. Get it installed because it would surely come to use every now and then.