If you've ever needed to zap an audio or video file onto a portable device but discovered that it needs to be in a different format or use a different codec, Cocoon Software's Quick Media Converter might be just the right tool for you. This free program is a superb tool for quick file format conversions and editing jobs.
After installing QMC and choosing the language you need (everything is in French by default), you'll see a rather ugly interface before you. None of the buttons or menus follow any standards of design or usability, but you can figure out what does what, you'll be on your way pretty quickly.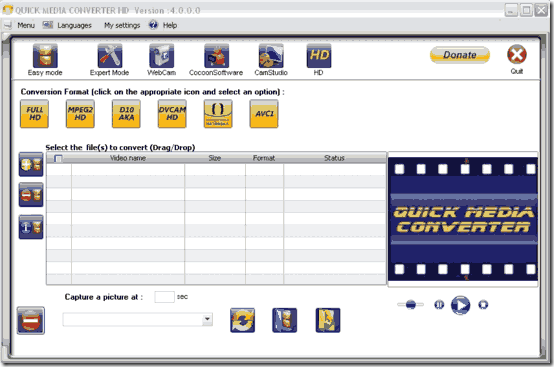 You start out in Easy mode, which presents you with a row of buttons for each major audio / video format including presets for game consoles, portable devices, and Flash formats for the Web. Just drag and drop files into the queue, select an output folder and hit the 'Start Conversion' button.
Expert mode offers more granular control; you can choose your codec and container formats, custom output resolution, add subtitles, add metadata, and use two-pass encoding. Impressively, Quick Media Converter can also capture video from a webcam or DV camera, which could come in very handy. Last but not least, its website has an active forum where users post video tutorials and share troubleshooting tips with each other.