While installing programs, many more components are often installed which you do not want in the first place. It is annoying if, for instance, an endless stream of Startup entries slows down your system. Deactivating these entries is irritating and time consuming. Instead of manually putting the Startup entries out of action, you can prevent annoying programs from installing themselves there using the free program called "Startup Monitor".
This tool notifies you when any program registers itself to run at system startup. It prevents annoying programs from registering themselves behind your back. Download  and Install it.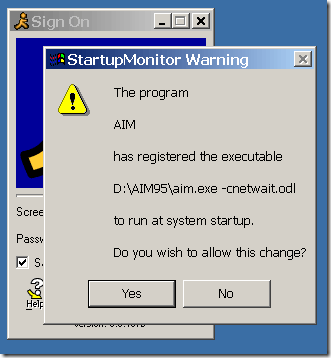 After the installation and a system restart, it automatically remains active in the background and monitors relevant system settings. As soon as an installation routine tries to create a startup entry, the tool responds with a confirmation dialog. The entry is made only if you authorize the change by clicking "Yes", otherwise, it is rejected, Last but not least, it minimizes the risk of corrupt programs such as viruses, worms or Trojans secretly settling in your system.
A practical extension of this support program is the "Startup Control Panel", which you can find here. This tool displays the Startup folders and registry key in separate tabs. You can easily deactivate individual entries or delete them through the context menu using the assigned checkboxes. The option of moving Startup entries is also interesting. If for instance, you want to make an entry available for all users of  the computer, simply move it into the folder for common Auto Starts. For this, find the respective entry, right click it and select the "Send To > Start up (common)" context command.
NOTE: Although the tool also works under Vista with administrator rights, it is  actually unnecessary here. This Microsoft operating system has a powerful Startup Manager on board, which can be found under "System > Change Auto Start Programs".