PNotes or Pinned Notes or Portable Notes is the software version of the Manual Sticky Notes. We often use these sticky notes to keep track of things. PNotes is a light weight free application which can be used to create sticky notes on your desktop. You can create new notes and can even customize them.
This is the best way to make note of things as you can easily note down anything on your desktop. This also works as a To-Do manager and using this you can never forget anything as you have all the information right in front of your eyes on your desktop. Also check out other Sticky Note Applications.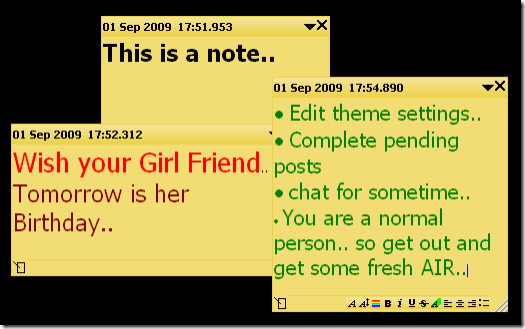 This portable application is embedded with a lot of features. Apart from being fast, No installations are required, you can just run the file to start using it. The program stays in the context menu and you can configure everything by right clicking on the icon.
You can customize a lot of things like the font size, color etc and can even organize all the notes through the control panel. There are options to dock or hide all notes, group them, and can even change the settings of Appearance, Skins, Schedule, customize the way scheduling works, select different skin, change behavior, customize docking, select hotkeys, email your notes and do a lot more.
PNotes is the best application if you are looking for a light weight, simple tool which works as a scheduler, notebook, sticky notes, to-do list manager. This is one must have free tool if you don't want to forget anything.