PicPick Tools  is an all-in-one design software which has many tools like powerful capture tool, image editor, color picker, color palette, pixel ruler, protractor, crosshair, whiteboard and etc. These can be very much useful for software developers, graphic designers and home user to capture and edit their pictures.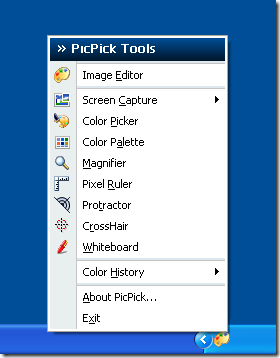 You just have to select the tool you want from the available options by clicking on the system tray icon, and you can use it easily. You don't have to install it. Just download PicPick and run it. You don't have to install different applications for each operation as you will be getting them from a single portable tool.  The features of this software bundle are..
Captures
   – Full Screen (Support for Dual Monitors)
   – Active Window
   – Window Control (Scroll a page automatically)
   – Region, Fixed Region
   – FreeHand
   – Repeat Last Capture
Image Editor
   – It's very similar to Microsoft Paint, but you can do more.
   – It provides an effect like selection opacity, blur, sharpen, brightness, contrast, hue, saturation, flip, rotate and etc.
Color Picker
Color Palette
Magnifier
Pixel Ruler
Protractor
Crosshair
Whiteboard