Pando is a free Peer 2 Peer ( P2P )software which lets you download, stream and share large media files easily. It is a fast and easy way to send huge files to others. This software which lets you send emails with large attachments, IM a folder of data or publish your downloadable videos, photos etc online on any website. You can even watch full-screen High Definition ( HD ) Internet TV.
Check out Best ways to Watch Free Internet TV Online
This freeware application lets you accelerate and download huge files and folders and can be used to exceed your email attachment limits and email files and folders up to 1GB using your email ID. You can share your files via Web, Email or any IMs.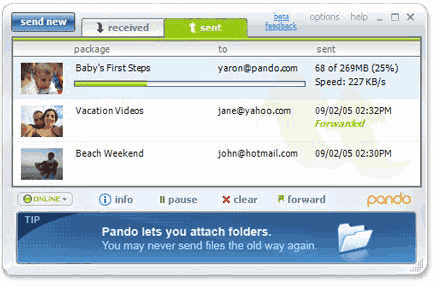 It also provides an option to Publish downloadable videos, photos and audio to any web site. It doesn't use any FTP and you can send the files to anyone you want and best part is you don't need to be online when the recipient is downloading the file.
You can download Pando for free or Get a Pro Version of Pando which has even better features like send 3GB files, No Ads, Free Tech Support and more. This is the best way to share large files among your friends quickly.