So you have this seventeen inch screen you are very happy with and you are constantly multi-tasking, opening up all those windows on the screen can be a tad confusing. WinSplit Revolution helps you align all those windows on the screen at the click of a button. Of course, you can do this manually too but using the software is much simpler!
If you still want to align your windows manually, the software allows you to snap them into place. Having said that, the auto-alignment ensures that your windows are aligned to the edge of the screen rather than "almost at the edge". To auto align all windows, you press [Ctrl] + [Alt] + [M]. To save any open program, [Ctrl] + [Alt] + [0].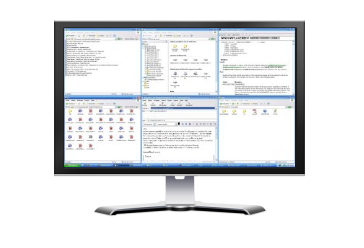 WinSplit is especially useful for high-end LCD screens with high resolutions because it helps you to efficiently manage many active windows. Experimental feature called Drag'n'Go is added which allows a user to place a window without hotkeys. While moving a window holding the Ctrl and Alt keys, WinSplit will highlight the recommended area of the layout which best fits where are dragging to and automatically snap the window into that position when you stop dragging.
A few other options include Windows Fusion, which splits the screen horizontally with the last two opened windows when the [Ctrl] + [Alt] + [F] shortcut is used. Pressing [Ctrl] + [Alt] + [M], to use the Mosaic function, you can split the screen in nine parts and have windows in all of them. If you have less than nine windows open, some will be larger and if you have more than nine windows open, the first nine will be tiled. You can also close all windows with the shortcut [Ctrl] + [Alt] + [C]. These shortcut keys can be changed too!