This may sound like an advertisement but I am talking about this software called digsby. It was referred to me by my friend Sidharth. After trying the software I fell in love with it. It is so cool that you can do everything you need to do in a day using it.
For people like me who chat a lot on IM's like Gtalk and yahoo messenger etc this is very useful as digsby is a multi protocol IM client that lets you chat with all your friends on AIM, MSN, Yahoo, ICQ, Google Talk, and Jabber with one simple to manage buddy list. It is also an email notification tool that alerts you of new email and lets you perform actions such as 'Delete' or 'Report Spam' with just one click. and also gives you updates of your Social Networking sites like Twitter, MySpace and Facebook.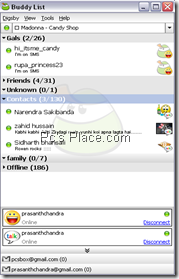 The chat windows are even tabbed so that you can chat with different people in the same window. Every thing in Digsby can be personalized right from the window's appearance, buddy list's layout, notifications etc.
Other than that there are many things you can do with digsby like
Digsby offers complete synchronization between computers and installations. Everything from the skin you chose to your pre-defined status messages follows you from place to place.
You can place a widget on your blog, web-site, or social network profile so you can chat with visitors right from digsby.
Manage multiple simultaneous file transfers from one simple transfer manager.
To know more about this wonderful tool go here.
Why wait? Just download DIGSBY from the below link and make every thing much easier and enjoyable

Download Digsby
Note: The only thing which is bad about it is that it takes a lot of resources and if you have a high-end system you should definitely give it a try.
Technorati Tags: digsby,multiprotocal,im client,email notification tool,live feed,
social networking
,
twitter
,
facebook
,yahoomessenger,
gtalk
,
icq
,
msn