Norton Security Scan is a free virus scanner which automatically scans your computer for viruses, spyware, adware, trackware and other threats. It is designed to block hackers and prevent online identity theft. The scheduled scans will check for security risks and notifies you when there is a threat.
Norton Security Scan and Clean uses Symantec virus definitions to scan your computer. It does not provide real-time antivirus protection. For complete protection go for, Norton Internet Security. Here is a special offer to free download Norton Internet Security.
Download Norton Internet Security 2009 – Free Subscription Offer
Also check out other Promotional offers ( Giveaways ) to get free Antivirus Software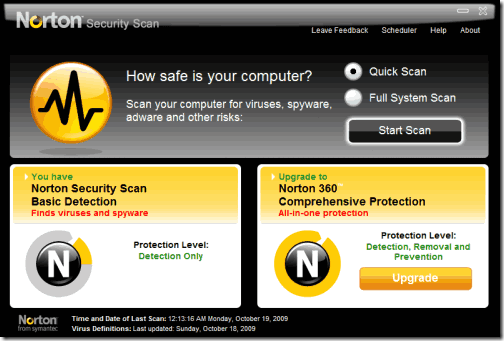 The Virus definitions of Norton Security Scan are automatically updated when your computer is connected to the Internet. You will also receive Norton Security Scan and Clean product updates through the Internet. You have options of Quick Scan and Full Scan.
Key Features of Norton Security Scan:
Scans for threats residing on your PC

Detects and removes viruses, worms, and Trojan horses

Detects and warns you of spyware and unwanted adware but does not remove them.

Schedules regular scans

Automatically receives updates
Norton Security Scan is the best freeware which provides you with free protection updates and scheduled weekly scans. It will help you will help you make sure that your computer is not infected with virus or spyware and scan your system automatically.