Network Search Engine is a free file and folders search engine for local area networks which crawls and indexes all files shared on the network computers, giving users a quick way to find files on local computer network.
Its administration interface provides access to a wide variety of features and configurable options. You can include / exclude files from the index, the incremental crawl schedule, specify the computers that should be indexed, etc.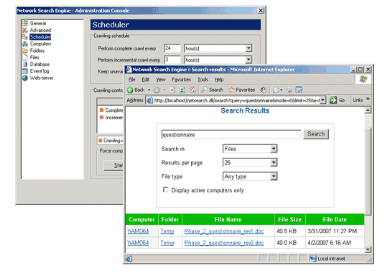 A web search interface is very easy to use, just type the name of the file or folder you're looking for and click "Search", just as you do a Google search.
It offers you an option to search files or folders,and lets you choose the type of file, define how many results are displayed per page and display results only of active computers.
Here are the key features of Network Search Engine:
Indexes all shared folders on the network or just those you select

Provides a database of high-speed search

Accessible web interface or Windows client

Highly configurable (Inclusion / exclusion of files, folders, filters, etc.)

Administration Console convenient

Schedule full or incremental crawl

Database and web server built

Compatible with Windows 7, 2008/2003/2000, Vista and XP (32 and 64 bit)