Your windows taskbar gets crowded whenever you open many applications at a time. In order to avoid the congestion and confusion caused by too many applications, you can manage the running applications by keeping them or minimizing them to system tray. Tray It is a cool application that can minimize any software or application to System Tray( Where you can see your Clock  😀 ).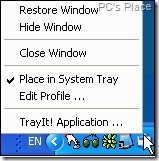 This free software comes as an executable file and it doesn't requires any installation. Once executed, TrayIt! will show all the opened windows currently running in your computer.
To temporary put the opened windows under system tray, you can do it by holding Shift key while minimizing the application. Once you have restored the window, it will be kept under taskbar as usual instead of in the system tray. If you want to always keep the window in the system tray whenever the window is minimized, go to TrayIt! user interface, look for the application that you want to keep under system tray and right clicking on it, from the context menu choose "Place in System Tray". You will notice the those applications will be minimized and kept under system tray.
Other features include group similar tray icons for each application, single click to activate an application kept in system tray, clicking on the system tray to minimize the application in foreground and activate when it is in background, hold shift key instead of ctrl key to temporary minimize the a window to system tray and etc.
TrayIt! is a very useful tool especially when you have a lot of applications keep on running at the same time on your computer. .