For all the Windows Live Messenger users, Here is an Add-on called Messenger Plus! Live which adds a lot of features to your IM client. These features are very much useful to customize your messenger and you can get all these functionalities for free. This Live messenger extension lets you do a lot with your messenger like change the look of your Windows Live messenger with new themes, emoticons, custom tweaks and you can even install third party scripts, etc.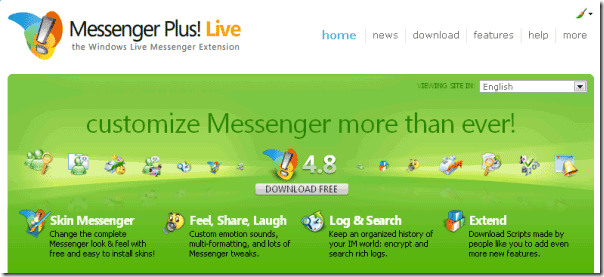 The new features of Messenger Plus! Live Add-on include Log Search – which lets you search your saved chat conversations, Messenger Skins by which you can customize your messenger the way you like, New interface, and lot more like Contact List Clean-Up, Sound library window, Quick Icons functionality etc. Other than these, other functionalities are..
Tabbed chats

Color formatting and commands

Quick texts

Custom sounds

Personalized status

HTML Chat logging

Messenger lock

Log into Multiple Accounts at same time

Place your contacts on desktop

Encrypt chat logs
and the list goes on. Messenger Plus! Live add-on is a must for all the Windows Live messenger fans. The add-on is available in many languages. Get it and use extra features and make your Instant Messaging easier than ever.