Were you looking for a better and safer way to lock and unlock your Windows computer? I have always thought if there is a way to lock my computer the conventional way I lock my home. Yes, with a lock and key.
This sounds silly, but this post is about the similar way to lock your PC. But here, instead of lock and key, we would be using any of your USB or Pen drive.
There is a free tool namely, Password Booster Screen Lock which lets you lock Windows PC and also unlock Windows PC using pen drive / USB flash drive.
All you need to do is download this program and then install the same. And once you launch it, the below window would appear.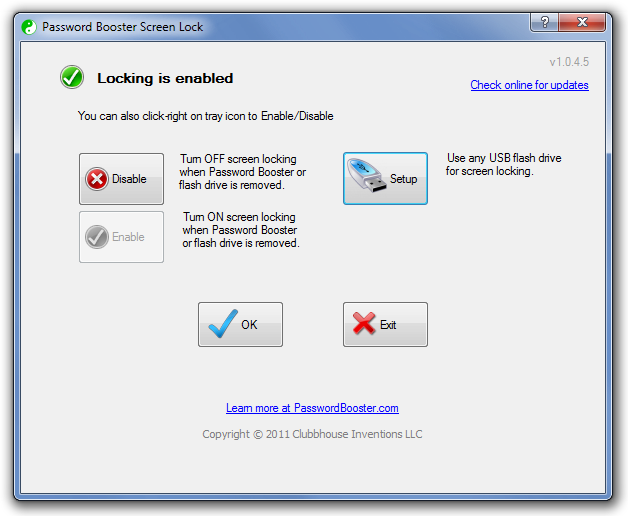 Here you need to register the flash drive by clicking on the Setup button and then following the instructions step by step. And once it is registered, you need to click on the Enable button to activate the lock.
You can also Enable or Disable the lock by right clicking on the icon on the system tray and then choosing the right option.
If you have already inserted your flash drive, just remove it and insert it again. This will lock your PC and inorder to unlock it, you need to enter your Windows password.
So, whenever you want to unlock or lock your computer, all you need to do is just use your flash drive. Out of the all the ways you have seen and tried, Password Booster Screen Lock is the program which offers you with the best way to lock and unlock Windows PC using flash drive.