When you install any software on your Windows, it makes a registry entry on your computer. This is the reason that when you install any of the Kaspersky antivirus product on your computer, you fail to use it beyond 30 days even if you uninstall and install it again as the registry entry already exists there.
So, here is tool namely, Kaspersky Trail Reset Tool which actually lets you extend Kaspersky Antivirus trail period. It basically takes control over the registries on your computer and does some changes that you can use the Kaspersky program for another cycle of trail period.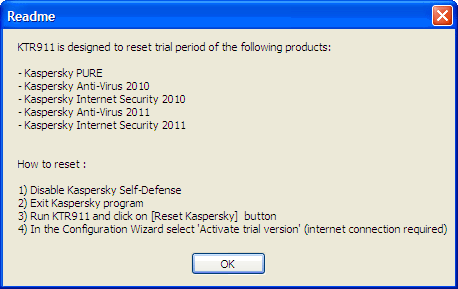 It means that whenever you are done with the trail period, you can make use of this tool to extend your trail period. This tool works very well on Kaspersky PURE, Kaspersky Antivirus 2010, Kaspersky Internet Security 2010, Kaspersky Antivirus 2011, and Kaspersky Internet Security 2011.
Using this tool is as easy as 1,2,3. All you need to do is deactivate the self defense of the Kaspersky product by clicking on its Settings option and then uncheck the box labeled as Enable Self Defense.
Once done, quit the Kaspersky Antivirus program and then launch the tool that you installed on your computer and click on the Reset Kaspersky button.
Now, it would display you with step by step procedure to get the trick done. Once all the steps are done, start using your Kaspersky Antivirus forever.
NOTE: It is recommended to buy the program and use it because it is not legal and we do not promote such activities. And moreover, you cannot update your program which leads it to incomplete protection.
via Source