IsoBuster is a very powerful optical media data recovery software for homes and offices. It is packed with powerful data recovery features that can rescue data from damaged CDs, DVDs, HD-DVDs and Blu-Ray media too. You can get back lost data like important documents, pictures or videos from optical media that are partially scratched, rewritable media that are erased or regular media with lost data due to multisession errors can be easily retrieved. If the optical disc is scratched beyond a particular point, the software tried to retrieve the data as far as possible, but can damage the optical drive due to overheating.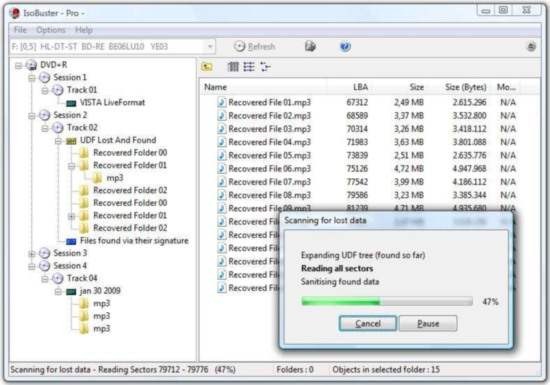 IsoBuster is very much useful to read damaged CDs or DVDs which are not accessible normally. It is available in Free and Professional versions for personal and business uses. The difference between the free and professional versions are basically the ability of the utility to read UDF file system formats and HD and Blu-ray discs. The Pro version also can read from HFS file systems and retrieve IFO and VOB files from DVD video discs.
The utility is very easy to use. Just pop-in an optical disc you need to retrieve data from and software will list the table of contents on the first screen. Select the data you need and save it to the hard drive in the form if an ISO or directly save files from the disc. With this utility, one can extract files, tracks and sessions from optical media discs. Additional features allow you to extract boot images from bootable discs and also check if the media is physically readable.