Have you been looking for a good bitmap image editor which could let you create, edit, compose, or convert bitmap images. If yes, then your search is over.
This surely sounds quite movie-ish, but its true. ImageMagick is a complete collection of tools, libraries and utilities for working with bitmap images and it supports a lot of other formats too which include: GIF, JPEG, JPEG-2000, PDF, DPX, EXR, TIFF, PNG and SVG and others.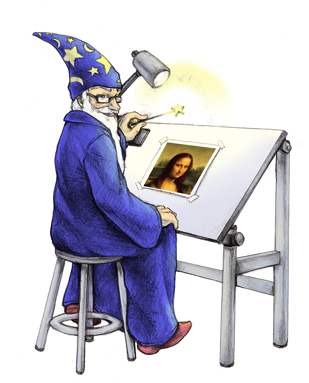 This program allows you to rotate, rotate, crop, distort, adjust colors, add special effects, insert text, lines, shapes and resize photos with which to work. The utility is perfect for those working in the programming and web design.
ImageMagick can be downloaded completely free of charge, and runs smoothly on all the operating systems. The tool is effective for all processes and operates full stability results obtained with it are exceptional. I hope that the suite will help them do their projects in both amateur and professional.
Below are some of the features of this powerful free Bitmap Image Editor, ImageMagick:
Convert images

Transform its shape and size
Decorate and add special effects
Add animations, text and comments
Virtual pixel and large image support
Motion picture support
Much more
Do check it out if you have any intention of working on bitmap images as its a one stop tool for all your bitmap image editing needs.