VidCoder is a free program which lets you rip DVD or Blu-Ray movies. This free software allows you convert a movie on DVD or Blu-Ray into a video file on your computer, it can be useful when you want to watch the movie on a device that has no optical drive.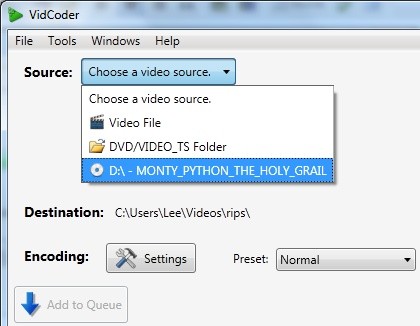 VidCoder is a free tool that makes it easy to create copies of movies stored on DVD or Blu-Ray to watch them on your computer or on mobile devices, including iPhone, iPod Touch and IPAD.
Ripping a DVD or Blu-Ray movie with VidCoder is very simple. First you need to point the location of the movie. This can be a DVD, Blu-Ray, a folder or a video file stored on your computer.
After selecting the video source, you must set a target location to store the output video once you rip any DVD or Blu-Ray, select a DVD title, the audio and caption to be included in the ripped video.
Then you must choose an encoding profile in the "Preset". The profiles should work fine for most users, but you can set the encoding options in "Settings".
In the "Settings" you can choose the output format of the video (MP4 or M4V), configure the video codec, frame rate (FPS), bit rate, the final size of the video, audio settings, etc..
After setting all options in the title of the DVD or Blu-ray selected that you want to rip, click "Add to Queue" to add it to the conversion queue. You can add multiple titles on the same disc in the conversion queue.
You can also view the title selected by clicking the "Preview". After adding all the titles in the queue for conversion, just click "Encode" to start converting the videos.
The downside of VidCoder is the conversion time depending on the quality and choice of hardware configuration of your PC, a 2 hour movie can take more than six hours to be whacked.
VidCoder is one tool that your should have on your computer as it lets you rip any DVD or Blu-Ray movie to your computer with so much of ease. And this ripper is compatible with Windows XP, Vista and Windows 7.