If you are Photoshop user, then removing stains, acne marks or any other marks is a piece of cake. And I know that you are not a Photoshop expert, that is the reason you have ended on to this tutorial (I know, that's smart).
Once you are reading this article, you will realize that removing such marks from any image is as easy as 1,2,3 irrespective to the fact that you know Photoshop or not.
So, I would be talking about a free program, Photo Blemish Remover which does the whole photo cleaning job for you. While using Photoshop, we actually pick the surrounding color, and then use it to hide the marks / stains. And this free program does the same thing, but it does all these things automatically and this makes it an incredible program to have.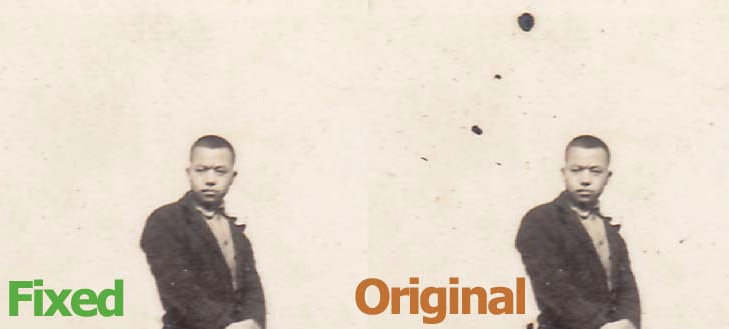 Once the program is installed, launch it and load the photograph that you want to work upon. Now follow the below steps and it would be done.
Choose the brush size

And then spot the place on the photo which has the stain, place your mouse over it and click
And that is it! You will see that the stain has been removed. You can make use of the zoom function and brushes of different sizes to remove the stain from any image that you want.
Get hold of all your old images (or say, images with stains / marks), load them on this tool and get the photos rid of such stains. Its pixel stamping mechanism works so well that removing point-like stains, blemishes and acnes on skin/face is a child's play.