If you are looking for a free and simple tool to create desktop shortcuts in Windows, then you have to check out Handy Shortcuts. You can have a shortcut of on your own. Whether it would be shortcut to safely remove hardware, shortcut to change the screen saver, or shortcut to create a new folder on desktop. All this could happen without using your mouse.
And best part is that Handy Shortcuts is compatible on all versions of Windows which include Windows 7, Vista and XP. Below are some of the tasks for which you can create desktop shortcuts in Windows:
Lock WorkStation, Switch Account. Shutdown, Restart, Log Off, Hibernate, Show Desktop, Uninstall Programs, Device Manager, Security Center, Windows Defender, Windows DVD maker, Flip 3D, Launch Screen-saver, Disable Windows Firewall, Enable Windows Firewall, Clear Clipboard, Connect to Internet, Safely Remove Hardware and a Master Control Panel.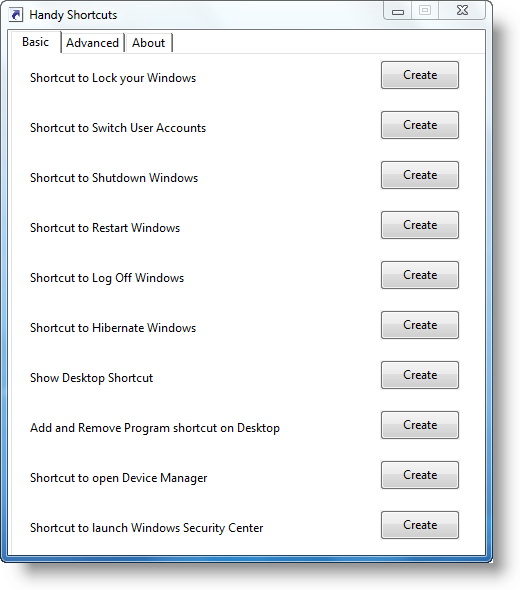 Out of the all the above mentioned shortcuts, there are few which would surely make your life on Windows easier. Below are they:
Enable / Disable Windows Firewall : Now you need not waste your time while you need to activate or deactivate Windows firewall. This could happen right at your shortcut keys.
Device Manager : This one would prove to be a pretty useful one.
Safely Remove Hardware : You use this feature number of time every day. So, having a desktop shortcut for this action would always help.
Connect Internet : Why to launch the dialer and wait for it to launch to connect the Internet. Hit the shortcut.
Flip 3D : If you are working on Windows 7 or Vista, here is an easier way to access task bar.
Try out Handy Shortcuts as it would only make your life easier as it lets you create desktop shortcuts in Windows 7, Vista and XP.