This is not one of those tools that you would be using every day, but is surely one of those tools that you would like to have whenever you are testing your machine's hardware.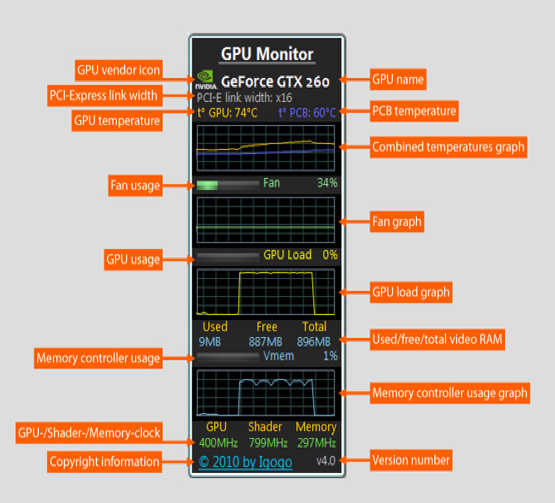 GPU Monitor is a small program to monitor graphics card constantly in order to maintain the smooth functioning of the unit and the system as a whole. The information provided by the utility includes the below things:
Manufacturer details
Clock speed
Load
Temperature
Speed of the coolers
Data on the RAM among other things
In addition to above mentioned details, it does offer little bit of more information about your graphic card which would help you comment on your computer's graphic card performance.
GPU Monitor has the same design as the classic gadgets that we use regularly on Windows and this does mark it as a user friendly application. Also note that the information issued by the gadget is in real time and for those seeking settings are enough to customize the tool to taste.
Below are the models that GPU Monitor supports:
NVIDIA models 8, 9, 100, 200, 300, 400, 500 and 600
ATI HD 2000 models, 3000, 4000, 5000, 6000 and 7000
A wide range of NVIDIA mobile cards
Without much else to add we can say that this program is perfect to take care the very important aspect of our computer hardware.