GParted (GNOME Partition Editor) is a free partition manager based on Linux, but it can also be used on Windows OS. It can be used to create, reorganize and delete the hard disk partitions. This freeware is  available in three forms:a binary that can be compiled on any Linux distro, a Live CD which can be burnt onto CD, and a Live USB distribution that can be run by booting off a USB drive.
The interface is simple, clean and very easy to understand. The top part of the window shows the hard drive as a rectangular diagram, and the partitions are drawn with proportional sizes. The file system, capacity, and free space of each partition are shown at the bottom.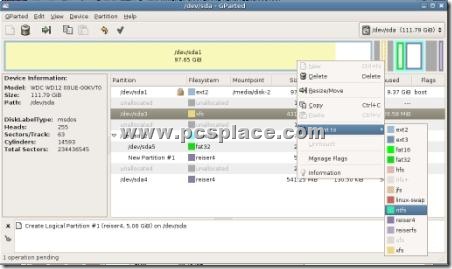 You can right-click on a partition and resize, move, copy, format, or create a partition. After you perform a certain list of actions, a new pane pops at the bottom of the program, listing the actions and their sequence. This is just a preview of the actions, and you can review the actions and undo any or all actions. Once you feel that all is OK, you can click the Apply button to execute the actions. From this point on, you cannot undo anything.
GParted supports a host of file systems such as ext, ext2, FAT16, FAT32, NTFS, HFS, HFS+, and the list is seemingly endless. This software will give a run for their money to commercial Windows-based partition managers. We have only good things to say about it, full marks to GParted.