Google Buzz Desktop is a free adobe air desktop client for Google Buzz. Google recently launched Google Buzz, an upgrade in GMail that lets you share photos, videos, and start conversations about the issues that you want.
Google Buzz Desktop is a client Buzz Google based on Adobe AIR brings the new feature of GMail to your desktop, eliminating the need to open the GMail to use Google Buzz.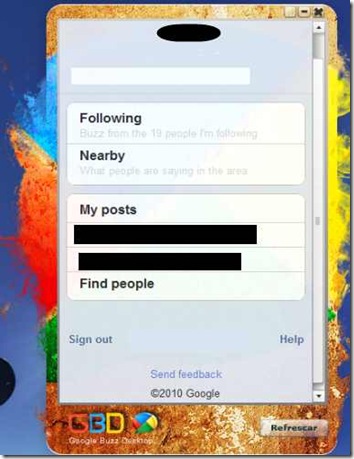 The Google Buzz Desktop has an interface very similar to Google's interface to iPhone Buzz. Through it you can share your ideas, see updates from your friends, see friends who are following him and also the people you are following.
A search based on the geographical location is not yet available, but you can also check your emails in GMail, chat with your contacts in GTalk, check your calendar, access your documents on Google Docs, etc.
Features offered by Google Buzz Desktop:
Updates every 2 minutes

Emulates Google iPhone Buzz

Runs on any operating system