Excel is the spreadsheet program that everyone can use. From managing your monthly budgets to tracking a company's complex financial account, it can pretty much handle everything you throw at it. However, it comes with its drawbacks. It's a part of the Microsoft Office package, does not support a few spreadsheet formats such as OpenOffice and tends to be a memory hog. Here is Gnumeric, The open source spreadsheet application.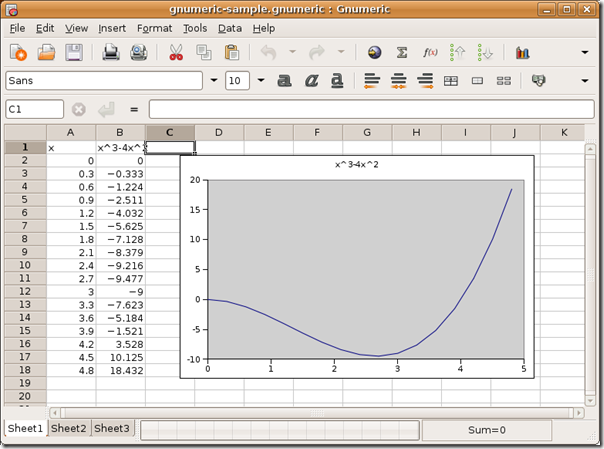 Style and Features of Gnumeric
At first look, Gnumeric doesn't feel so very different from Excel 2003. You do not get some good functions from Excel such as the formula auditing toolbar. But it is a basic spreadsheet application that will help you keep track of information in tables and lists, perform complex calculations on numerical data, be it statistical operations or otherwise, and create and display graphs using bar, line, pie or radar type plotting devices. Since this is what most of us do most of the time, Gnumeric efficiently delivers on it. It has come a long way in file format Compatibility.
Compatibility
The Gnumeric file format is compressed XML which can be decompressed using gunzip, the GNU gzip program's decompression utility, into text. Gnumeric can also open files from several well known proprietary and free spreadsheets including Excel, Lotus, Applix, OpenOffice, Psion, Sylk, XBase, Oleo, PlanPerfect, Quattro Pro and HTML.
Spreadsheets created in Gnumeric can be saved to several versions of the Excel file format, and also other aforementioned formats such as OpenOffice, Paradox, and Data interchange format.

There is a PDF export option which allows you to create a PDF file of your spreadsheet application for easy document exchange.

The latest release also comes with support for the Office Open XML ("OOXML") format which allows for basic import and export of these file types, though chart and embedded objects are not yet supported. 
Performance
So how does Gnumeric open other spreadsheets? Well, it opens an Excel spreadsheet (XLS) perfectly. I am talking about the works: tables with formatting options such as bold, underline and italics, symbols, borders and shading, complex equations, and bar and line graphs. Even opening up an OpenOffice.org spreadsheet (ODS) posed no trouble.
For more features and to DOWNLOAD Gnumeric go here : www.gnome.org/projects/gnumeric