Their tag line says it all, The fastest way to IT Certification. uCertify is one of the oldest and most experienced help available for people appearing for IT Certification. With over 98.17% pass rate, its success rate tells you half the story.
So what exactly would get in an uCertify exam it for any particular exam? Well, the kit would comprise of exam objectives, chapter by chapter study guides, study material, practice tests, reference material, study aids, progress system and much more.
With easy to use interface, you can make the best use of this kit in easiest possible way. The best thing to boast about uCertify is the quality of its content and questions. This top quality material makes uCertify to guarantee that one would pass any IT certification in the first attempt, if he or she uses their kit, or else they would pay you back without any questions.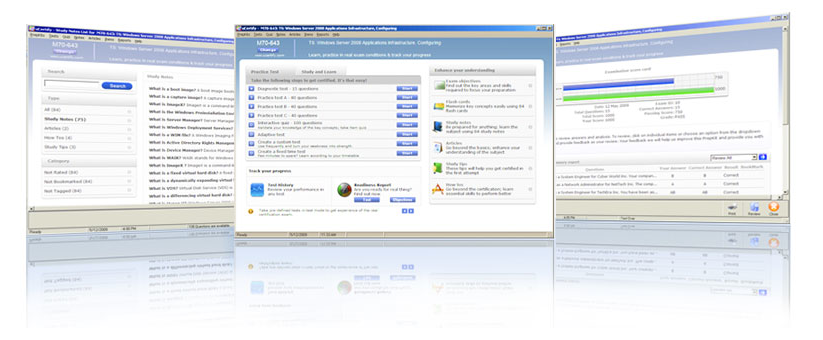 Below are some of its features:
Fast, comprehensive and complete solution
Practice tests, quizzes, notes, flashcards
Detailed progress reports
Actual test like environment
Features questions based on real time sceneraios
Chapter by chapter notes
Quality material for better understanding of concepts
Test taking tips and strategies
Unlimited support for an year and free upgrades throughout that year
If you wont get certified in first attempt, your money would be paid back without being asked any questions
Now you can avail free uCertify Kit for any IT certification you want. We have three licenses to givewaway and here are the steps to grab your free uCertify Kit:
Tweet the following text to your followers
#Giveaway – Free uCertify Prepration Kits http://goo.gl/zBpyo #PCsPlace
and / or
Share or Like this Page on Facebook
Leave a Comment below saying why do need the free uCertify Prepration Kit and also let us know the course for which you need help (in case you win, we would give you that particular preparation kit) with the link of your Tweet or FB share. Please mention your valid e-Mail ID
NOTE: The giveaway ends on 7th March, 2012 and winners will be picked using Random.org and will be communicated via e-mail on 8th March, 2012.
Apologies for the delay, and here are the winners:
Alankar Sharma
Prateek Arora
Grr
You would be receiving your licenses very soon. Thank you for participating.