GIF Optimizer is a lightweight nifty tool which lets you optimize / compress your GIF images / pictures for uploading them to your website. This program reduces the size of GIF images to a great extent.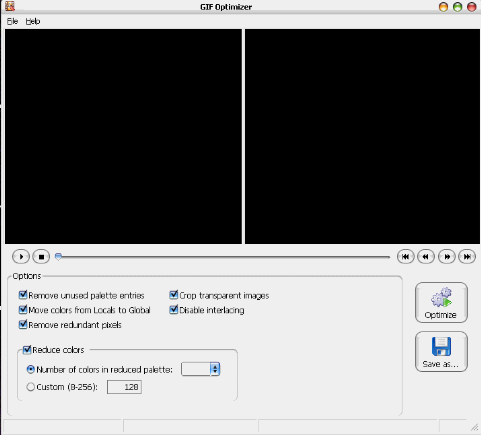 There are number of ways optimizing the images and pictures to upload them to your web site. We use number of picture editors to reduce the resolution, pixels and dimensions of the image to reduce its size. By doing so, we usually get the compressed size but it lacks clarity which makes the image totally useless.
GIF Optimizer lets you shrink up the size up to 90% of the actual file size and this allows you to obtain a compressed images within few seconds and without much efforts.
It was a wonderful easy to use interface which has two panels, one showing the actual image and other one showing the compressed one. So you can easily compare the different parameters of the optimized images.
Below are some of its features:
Easy to use user interface

Reduces / compresses the GIF images' size up to 90%

Dual panel interface to compare the images

Tweak the color palette and use custom values

Compatible on all Windows OS including Windows 7