There are number of ways to learn guitar online. But if you are looking for a free program to learn guitar on Mac and Windows PC, then you can easily find number of tools. And it becomes quite a tricky decision to choose the best one because you do not want to end up wasting your precious time.
If you get stuck to OK OK free program, then you might even end up hating guitar, which is surely something which you do want to happen. So get your computer equipped with Fretlight Studio.
Fretlight Studio is a free software which promises to help you play guitar with complete fun. Using this free program you can learn chords, scales, solos.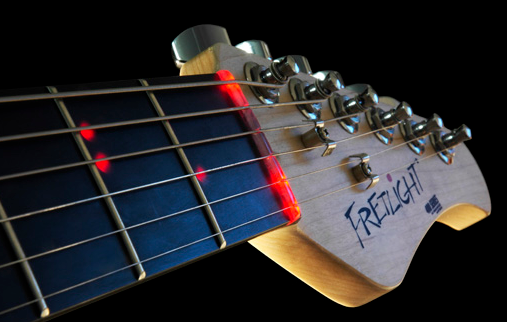 No matter if you are new to guitar, using this program will only do good to your pursuit of learning guitar. Unlike most of the free guitar teaching software, this particular program is highly advanced. And its features would overwhelm you. Below are some of the highlighting features of Fretlight Studio:
It offers you with more than 120 text based tutorials to learn chords and scales. With illustrative pictures, audio lessons and detailed explanation, learning things become so much easy
It features number of video tutorials where you can get to see how things can be done. There is no doubt about that fact that one can learn stuff visually quickly and easily
You can learn number of guitar playing skills like chord progression, pull off, lead, hammer, bend and much more
You can learn playing your favorite songs on guitar using this tool as it lets you slow down the tempo, and other few things which would indirectly help you pick up songs quickly
If you feel like jamming, then launch this tool as it feature over 100 backing tracks and other required things like choosing key and tempo
Its wiki page would help you installing the program and other free plugins
I have tried this program and fell in love with it. Give it a try!!!