It is quite true that finding a good free 3D modelling program is not as easy as finding a video player. So, here is a giveaway of free license for TurboFloorPlan 3D Pro.
It is a home & landscape design software meant for professionals. And it is designed such a way that even a non-professional can get this designing done using this program.
Using this full fledged designing program for PC, you can do interior designing of buildings and rooms right on your PC. TurboFloorPlan 3D Pro lets you conceptualize your designing ideas.
You can have your own database of materials and items that you like using. So, when you sit with this tool to put your ideas on paper, these things help you a lot.
For an architect, it is a great tool to have as it lets you put your ideas on paper the moment they hit you. A great tool to put in quick sketches. You can either design from the sample plans or you can use its House Builder Wizard to start working on this from its fundamentals. And the fact that it offers you immense power on the designing part makes it a powerful tool for designing.
It lets you create floors of different designs, insert doors & windows, stairs, and much more. You can use its database to save your stuff like electrical equipment, plans, models, furniture, interior. So it gives you immense control on the way you want to get your design right.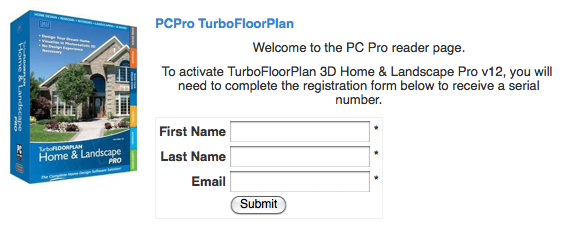 Free License For TurboFloorPlan 3D Pro – Giveaway
Here are the steps to avail free license for TurboFloorPlan 3D Pro:
Visit the giveaway page
Enter the required details and click on Submit button
It would display you the Serial Code now, so just copy it somewhere
Download TurboFloorPlan 3D Pro and install it
Use the above code to activate the tool and to make it full version
That is all! This is how you can easily avail the free license for TurboFloorPlan 3D Plan. If you are looking for a good tool for interior designing, then get done with this giveaway and get your free license.